Construction Industry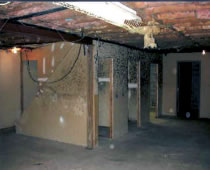 Protect the value of your property and all items and surfaces against the growth of mold, mildew, fungi, algae and bacteria which cause staining, odor and discoloration. Offers fantastic protection from dry rot. Protect your staff & customers.
Bio-Spear forms a highly durable bond with virtually any surface, working continuously, with just one easy application to provide an invisible biostatic protective film to prevent harmful bacteria, fungi, mold and mildew between cleanings.
Be proactive with Bio-Spear.
Drywall
Metal Studs
Formica
Roofs
Paved Driveways
Pavers and Brick
Concrete Floors
Wood Shingles
Workware
Uniforms
Porta Potties
Concrete Pools
Tiles
All Touch Points
Air Handling Units
Tools
Water based - EPA Registered - Odorless and colorless - Protects a wide range of surfaces - Highly durable Non-toxic technology after drying - Prevents biofilm buildup - Long term prevention of a wide range of microbial and algae growth - Non-leaching, mechanical method of efficacy - Can be wiped, sprayed or misted on virtually any surface.

EPA Registered
Groundbreaking patented

antimicrobial nanotechnology that works by not migrating or diffusing away from the substrate like nano silver.
Benefits of Bio Spear
Unique bonding technology
Long-term residual protection
GREEN - does not leach or deplete like nano silver
Efficacy proven through independent testing
SAFE - uses no poison or heavy metals like nano silver – Proven independent toxicology testing
Cannot create super bugs
Approved for porous and non-porous surfaces and fabrics
Easily added to finish cycle for manufacturers and commercial laundries
Water-based product for safe field applications (hospitals, oil rigs, mass transit, aviation, day cares)
Construction PDF Download